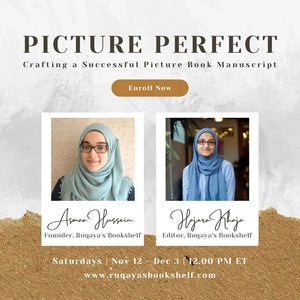 This mini-course with authors Asmaa Hussein and Hajera Khaja will give you the tools that you need to go back to stories that you're stuck on. If you have stories that keep getting rejected from publishers or stories that need something more but you're not sure what, this course will help you identify those missing ingredients. 
"Picture Perfect" will give you the tools and the motivation to finally put pen to paper and write the stories you were meant to write.
Registration deadline: November 10, 2022
All sales are final. No refunds will be offered.